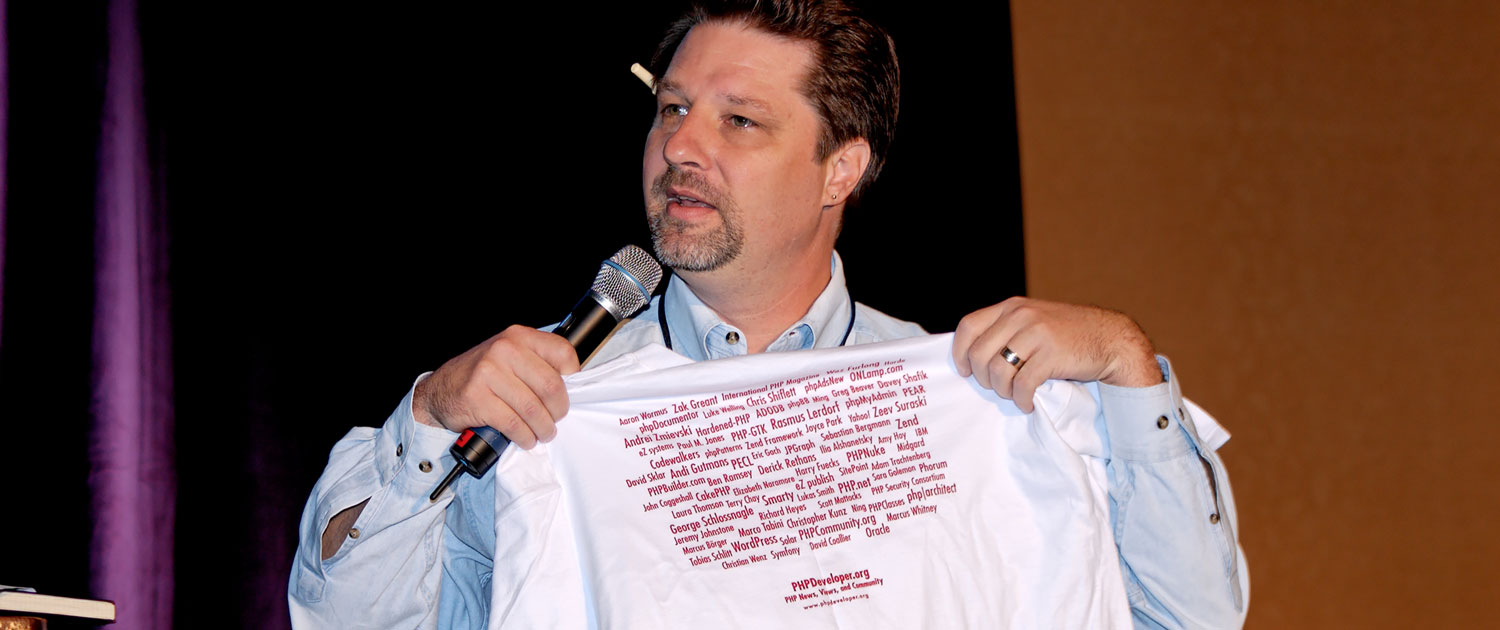 This post is long overdue, but I was finally able to sit down and type out my thoughts about the Zend/PHP Conference and Expo and the International PHP Conference. I had the privilege of being invited to speak at both of these conferences, and I accepted both invitations, which, in retrospect, may not have been a great idea since they were back-to-back in different parts of the world; I felt like I knew the NSA on a first-name basis. Looking back, though, I enjoyed each trip because I was able to meet new people, develop new friendships, and spend time with old friends.
Zend/PHP Conference Wrap-up
The Zend Conference started out great, ushering in a new era of the community-made t-shirt, and the week was awesome up until the moment immediately following my presentation. The week started with a visit to a couple of wineries for tastings, courtesy of Andrei (our chauffeur). We also had some great dinners, and I was able to catch up with a few friends and meet some people I have only spoken with via e-mail. The day of tutorials was excellent; I sat in on Rob Richards's "Advanced XML and Web Services" and Marcus's and Sara's "Extending PHP" tutorials. Both were very informative, though I would've liked to have seen more practical examples of Web Services, and I wish my attempt to connect to Sara's ad hoc network hadn't hosed my wifi connection (it took a full day to connect to any other wifi network and pick up an IP address). It is important to mention, though, that the ZendCon wifi was outstanding (compared to other conferences).
Then, the disaster came that ruined my enjoyment of the entire week.
On Tuesday afternoon, immediately following Chris Anderson's keynote presentation, I gave my "XML & Web Services with PHP (An Overview)" presentation. While setting things up for the presentation, I removed my laptop and power cables from my bag, and then placed my bag on the ground – I thought it was at my feet. After my presentation, however, my bag was missing, along with my camera, iPod, spare laptop battery, folders of work and writing notes, and more. Luckily, I had my laptop, but I was nevertheless livid. After a thorough search of the area, checking with hotel and conference staff, and posting a "lost bag" notice, I still hadn't found it. And it never turned up during the entire week. It was all I could think about. I couldn't focus on any of the presentations, and I wrote it off as having been stolen, which made me even more angry that someone would steal my bag right out from under me and that this bastard was a member of the PHP community.
On the Saturday following the conference, Chris Anderson – yes the keynote presenter and editor-in-chief of Wired Magazine – contacted me saying that he was in possession of my bag. From what I can gather, it seems that when they were closing the walls of the main conference room to divide it into the three session rooms, they closed my bag on the other side of the wall from the room in which I gave my presentation. Since the bag was near the stage of the middle room, someone assumed it belonged to Chris Anderson who had just given his keynote presentation from that stage. What happened next is left to interpretation. Chris told me that the "gift bag they handed [him] at the Zend conf registration" appeared to be the bag I had lost. There are two things that could have happened: 1) someone turned in the bag, claiming it was Chris Anderson's, and he assumed it was his "gift bag" when they returned it to him, or 2) the conference organizers had Nike bags similar to mine to give to the keynote presenters, and when they found my bag, they assumed it was one of their gift bags, so they took it back to the registration tables and gave it to Chris. In either case, he somehow ended up with my bag as his keynote gift.
At any rate, Chris quickly returned my bag, and my faith in humanity and the PHP community was restored. Still, the conference was a bit ruined for me, but that doesn't say anything about the topics, speakers, or Zend. The last night of the conference was great, though, complete with an IBM pirate-themed party and Microsoft-sponsored drinks and karaoke. There are pictures floating around on Flickr.
International PHP Conference Wrap-up
The last time I spoke at the International PHP Conference was during the Spring Edition 2005 in Amsterdam. The location in Amsterdam was ideal. It was right next to a train station, and a tram stop was only a couple of blocks away, giving conference goers easy access to the entire city. The conference location in Frankfurt, while undoubtedly cheaper than Amsterdam (you can't beat €87 a night!), was farther out from the city with no nearby train stations (the closest was several kilometers away). While I was able to explore Amsterdam everyday during my stay, I managed to leave the Frankfurt hotel only one night.
My complaints, however, deal primarily with the location. The conference, on the other hand, was excellent, as usual. The organizers, S&S, always put on a polished and well-presented conference, complete with excellent conference materials, right down to the programs, badges, and hoodies given to speakers. The European atmosphere feels familiar with noticeable differences – chances are, if an attendee has a Mac, they're from the US, while the Europeans tend to have IBM hardware. Also, what is the German obsession with sparkling water and small glasses? Perhaps it's my gluttonous Americanism, but I love to drink lots of water (without bubbles). Nevertheless, it's not hard to get used to, and, since I've returned, I've found myself craving a glass of sparkling mineral water on occasion.
While at the IPC and in-between trying to fulfill work commitments, I managed to make it to Aaron Wormus's workshop on "Mastering enterprise-level PHP tools PEAR, PhpDocumentor and testing," Marcus's "The Need for Speed, ERM Testing," and Sara's "Navigating Streams." Two great highlights of the conference were the PHP-Lounge and Code Camp (led by Marcus and Sara). I didn't make it to the Code Camp, but I've heard good things about it, and the PHP-Lounge was a great place to speak with other developers, share ideas, and have fun – free beer always helps, too. In addition, I gave talks on "Designing & Implementing RESTful Web Services" and "Filtering Tainted Data: PECL Input Filter vs. Zend_InputFilter." Following the conference, there was some discussion around the PHP blogosphere about comments I made during my filtering presentation; a (near) future blog post will continue that discussion and provide some answers and clarification.
On the last night of the conference, a small group of us did manage to escape the confines of the hotel. We took a taxi to a local restaurant, where I had a traditional German dish and a Czech beer. After dinner, we walked several blocks until we found train tracks, and then we followed them for a kilometer or so until we came to the station. We then made it into the heart of Frankfurt, where we were able to do a little site-seeing before sampling a few more beers and returning to the hotel. I've posted pictures to my Flickr account.