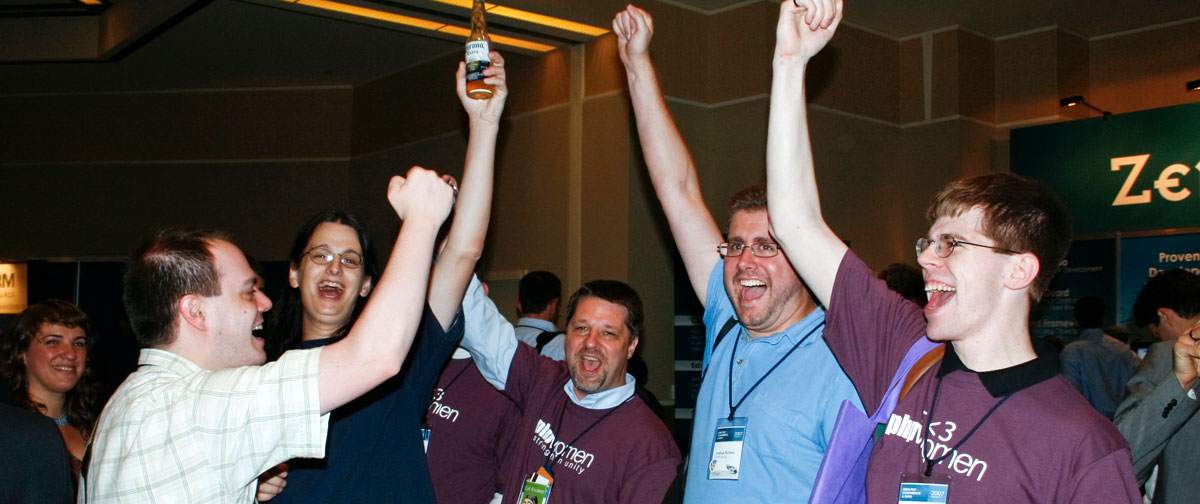 On 1 December 2003, Chris Shiflett announced the PHP Community project from his blog, as well as the php.general mailing list. While the community website envisioned never fully took shape, so many opportunities were created out of this initiative. I believe that, had it not been for the PHP Community project, there are many people—myself included—who would not be involved in the greater PHP community today as authors, speakers, and OSS contributors.
For the most part, the community-building spurred by the PHP Community project took place in the #phpc IRC channel on the Freenode network. I want to use this space to highlight some of the initiatives that came out of this project. If I'm missing something, please let me know, and I'll add it to this list.
Initiatives Growing Out of #phpc
PHP User Groups

PHP Security Consortium

PHP Appalachia

PHP Women

Phergie

PHP Mentoring

PHP Community Conference
PHP Community Logo
In 2004, the PHP Community project ran a logo contest. There were many submissions. The winning submission, announced on Chris Shiflett's blog, came from Peter Jovanovic and Richard Davey.
A modified version of this logo is still in use in many places, and I'm often asked why the logo contains these colors. Historically, the PHP project had three major, flagship projects, of which these colors are representative:
Reminiscing
My very first blog post was about the PHP Community project. In fact, it's why I created this website. Here are some links over the years related to the PHP Community project.
Initially, PHPCommunity.org was a wiki, where the project took shape, trying to decide how it would be organized and the content it would contain. We organized into subcommittees, each focused on particular aspects of the website (advocacy, registration, interface, news, content, etc.).
In March 2004, Chris Shiflett wrote about the progress of the PHP Community project for International PHP Magazine.
One of Ligaya's first blog posts discusses her early involvement in volunteering for the PHP Community project.
In 2005, the PHP Community project launched a Drupal-backed website.
As for producing content, in 2005, we published several issues of the PHP Community Gazette:
In 2006, Ligaya wrote about PHPC successes.
In 2007, we decided to move our community to Ning (unfortunately, the Wayback Machine was unable to preserve any of the styles for the website).
At ZendCon 2007, since at least 17 members of #phpc were attending, Ligaya organized a t-shirt order for the PHP Community project. I also wrote about the t-shirts.
In 2009, we moved to a placeholder website and remained in this state for a very long time.
In December 2013, I put up a better placeholder website, with links to various resources.
The Future
I'm not sure what the future holds for the PHP Community project, though I have some ideas. In the later half of 2015, I plan to share some of these ideas on my blog, so stay tuned.
---